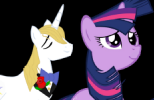 Twilight at the reception to the wedding she wasn't the only one suspicous of Cadence's behaviour!
She gets to spend some time with the colt who not only shared her suspicions but actually tried to go and looked for her!
What revelations will be made?
Picture belongs to Deviantart user TheSketchyEnigma!
Oneshot & Completed!
Chapters (1)