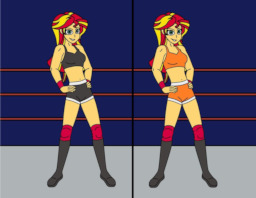 Source
Wrestling AU
Sunset Shimmer X Dusk Shine/Rule!63 Twilight Sparkle.
Dusk Shine is a charming nerdy scientist who spends time with his female friends and especially his girlfriend Sunset Shimmer. She is a caring kind girlfriend to Dusk, but in her day job as a professional wrestler she is a smug brute of a heel.
Title picture is Sunset Shimmer by avispaneitor on Deviantart, used with permission.
https://www.deviantart.com/avispaneitor
Similar to my Lovers in Kayfabe story.
Chapters (1)