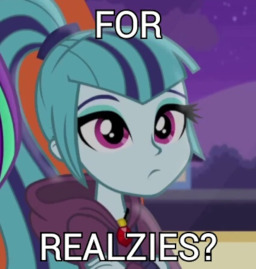 Defeated by the Rainbooms, Aria and Adagio finally have enough of Sonata Dusk, and banish her from the group with some incredibly harsh words.
Broken and remorseful of her actions, Sonata sits alone at a cafe, wondering what to do with her life. It is there that she meets a boy who might be able to help her. A boy who might allow her to redeem herself for her actions with the Dazzlings.
A boy who kind of resembles one of her former rivals.
---
Just some silly shipping that I dreamed up because I honestly can't think of anything else. Seriously, writer's block is baaaad.
Also, Dusk Shine X Sonata Dusk = DuskDusk OTP. Don't deny it.
Seriously. Just try to think of a better ship name than DuskDusk. I dare you.
Also, I totally made a group for it. For realzies.
Chapters (1)