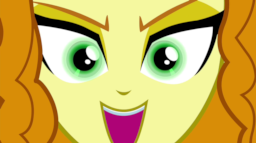 Source
Deserted by her adoring fans and powerless, Adagio Dazzle sits alone in a cafe. Abandoned by her fellow sirens and coming to the realization of everything she's lost, she finds herself losing hope...
Until she is joined by a complete stranger. One who claims that he has heard her sing... and adores her, almost as if her spell were still holding sway over him. Impossible? Yes. But at this point of desperation, Adagio is willing to believe in miracles.
Could he be her last chance to regain her powers?
*Spoilers in the comments, enter at your own risk*
Chapters (3)