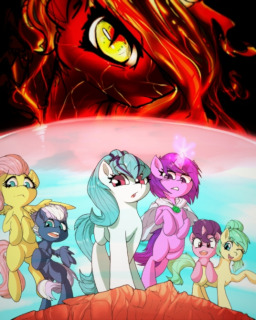 When a small filly calling herself Sonata Dusk emerged from the mysterious portal within the castle, Princess Luna expected many things. What she didn't expect was for the filly to claim that she was actually a siren, banished from Equestria a thousand years ago. Despite her initial surprise, Luna makes an unexpected decision, and takes the filly under her wing.
Several years later, with the impending return of an ancient evil, Luna sends Sonata off to the humble little town of Ponyville, in the hopes that she will be able to learn the true value of the magic of friendship.
But Sonata isn't quite keen on interacting with other ponies. After all, ponies would never accept a singing sea monster as a true friend... right?
---
First story of the Sonataverse.
Edited by Retirw-Tsitra. Cover art done by Violise.
Chapters (17)