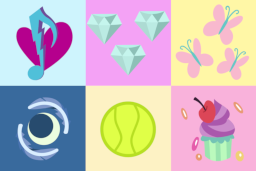 A prequel to A Harmonic Sonata. Reading that story first is recommended, but not strictly necessary.
---
Luna's new student, Sonata Dusk, has a lot to learn about the world. While it may be hard, the young former siren shows great promise, and Luna is determined to bring out her full potential.
Meanwhile, across Equestria, five ponies who will one day become best friends with Sonata grow and learn as well.
---
Edited by Retirw-Tsitra.
Chapters (4)