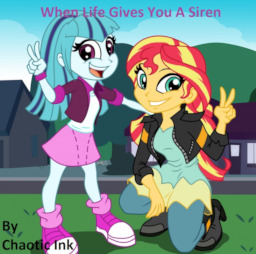 Life is going good for Sunset Shimmer. She's gone from a bitter, angry loner to being surrounded by friends, has a girlfriend for the first time in her life, and even helped save the human world from being mind controlled by three emotion-sucking monsters.
So imagine her surprise when one of the said emotion-sucking monsters reappears a month after their defeat as a young, mute child who is pick-pocketing to get by. Now she needs to figure out what to do with the child-ized Sonata Dusk that has come into her life.
And could the two other sirens still be a threat?
---
Idea inspired by Daniel-Gleebits and his story Three Little Visitors.
Also, AU for The Witching Hour.
---
Cover Art by Niban-Destikim
Chapters (3)