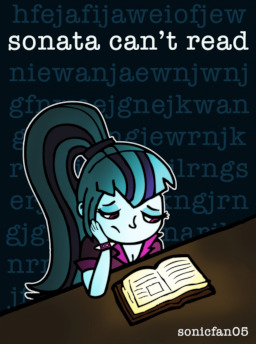 For the past week, Sonata made a lot more mistakes and been acting more weird than usual when she was trying to help out her friends, the Rainbooms. The gang were very concern for her behavior, until Sunset discovered that Sonata didn't know how to read. To make matters worse, Trixie also found out about Sonata's secret and revealed it to the whole school.
Tried of being mocked by Trixie and the peers from school, she confronted Trixie that she's not dumb for being illiterate and demanded an apology. Trixie decided to make a bet that if Sonata learned how to read by the end of the month, not only Trixie will have to apologize in front of the whole school, but also have to treat Sonata tacos for lunch for the entire month.
Without a second thought, Sonata agreed. But even with the help of her friends, will Sonata be able to learn how to read?
---
Cover art was made by me.
Featured: 2/8/18
While this is technically a sequel to "Trixie vs. Sonata: Battle of the Last Taco," however it isn't necessary required to read it before this one.
Chapters (13)