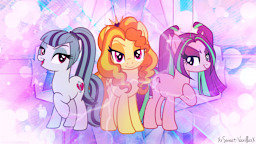 The Dazzlings are the most feared villains across Canterlot. A lot, of people know this. Now, after their defeat, see their perspective of how things work out for them. They set out on a journey to try and change their ways. Because Sunset Shimmer and them are living proof that anyone...
can change.
---
I don't know. I was bored. I guess I can continue it if you guys want me to.
P.S. Shout out to www.fimfiction.net/user/Abbeybunny13 for proof-reading my chapters!

Chapters (3)