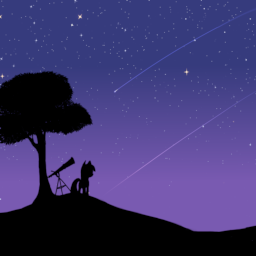 It's been several days since Rainbow Dash and her new friends used the Elements of Harmony to banish Nightmare Moon and return Princess Luna to Equestria. Sure, there were festivals and celebrations aplenty after that, but they've all died down and ponies have gone back to their lives and their jobs. Rainbow, in particular, is working a late night shift with the weather patrol in an effort to arrange early-morning showers.
She's more than a little surprised when she sees Twilight Sparkle headed out into the woods north of town with a telescope on her back and flies down to find out why.
Twilight explains that she's there to admire the job being done by another pony, one who hasn't had the chance to perform it in a very, very long time.
---
Now recognized as a companion piece to I'd Love to See the Moon Rise by thunder-dasher. (Edit 1:40pm EST 12/01/15)
---
Thanx to An-Twan Star for prereading.
---
Woohoo! Popular Stories list 12/01/15 (approx 12:40pm EST)!
Aw, yeah!! Feature Box (non-mature) 13/01/15 (approx 9:20am EST)!!!
Chapters (1)