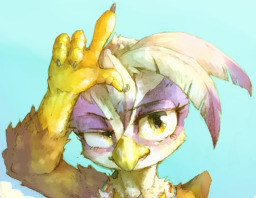 Source
The nice thing about living in Appleloosa, Gilda has discovered, is that you don't have to share the skies with anyone else. There may not be many clouds in the sky for perching and napping, but a warm rock on a high pinnacle can work just as well.
The locals are at least tolerable. Earth ponies tend to be a simple, predictable bunch, prone to routine.
It's when you get out-of-towners coming through, though, that problems can erupt. Especially when too much hard cider is involved.
Part of Equestria Daily's Outside Insight Fanfic Contest.
---
Reviewed by InquisitorM (review one | review two) , PresentPerfect, Cerulean Voice, Seattle's Angels, and Ponyfic Roundup 231
---
Thanks to Stitchwolf for the beta read and edits.
Thanks to Wargame Brony for the beta read and edits.
A very special thanks to Chuck Finley for assistance with some of the slurs and insults bandied about during this piece.
Thumbnail is a cropped version of an image by Toki Reatle on deviant art.
Chapters (1)