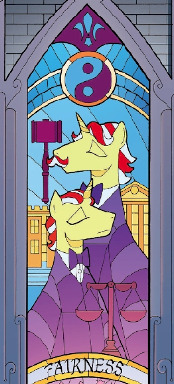 In the magical realm of Good King Sombra, two magistrates dispense justice with a smile on their lips and a song in their hearts.
Inspired by the stained-glass windows in the AU Mirrorverse in the IDW comics arc 17-20, "Reflections."
Starring those paragons of impartiality, Justices Flim and Flam, the Elements of Fairness, with an appearance by the benevolent rulers of two worlds, Good King Sombra and Princess Celestia. Good Sombra/Celestia. Comic book canon up to issue 18.
Note: The lyrics are all original. Whether that's a good thing or a bad one is up to you.
Chapters (1)