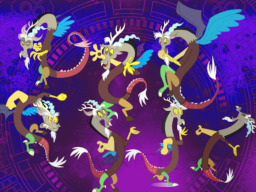 Source
Discord lost. He was once again turned to stone by the Elements of Harmony and returned to Celestia's little garden. With nothing much to do but wait, he lets his mind wander into the limbo between universes. From there he contacts other Discords in a similar predicament and together they come to a brilliant idea: Ally themselves together and overcome their respective foes!
Today is the day (in a manner of speaking) they organize this alliance.
It all goes as well as you would imagine.
WARNING: Extremely random, nonsensical and confusing.
Chapters (2)