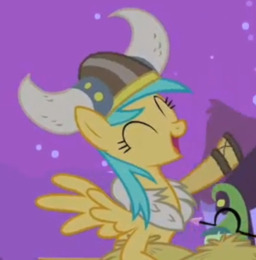 The Evil Enchantress Torka has kidnapped Prince Miche of the Kingdom of Levure. None of the kingdom's warrior dare defy the reptillian warriors of the enchantress! Only one mare is bold enough to challenge the Evil Enchantress, to atempt to save the prince, to brave the Dark Fortress of Ugn, and invicible enough to hope to come back alive: Raindrops of Clan Drops, Barbarian Queen!
A very silly short fic. This is technically a Lunaverse webisode, but does not rely on the continuity of that Alternate Universe so it can be enjoyed by anyone even if you are not a fan of the Lunaverse.
If you don't know the Lunaverse, then please come and visit us in the Lunaverse Group for all the stories in chronological order!
Chapters (1)