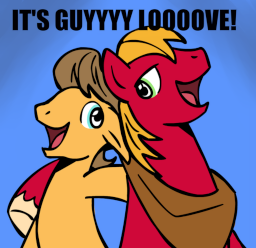 Source
Caramel and Big Macintosh have been best friends since they were colts. However, some ponies have other ideas about the extent of their relationship.
When Applejack and Rainbow Dash stumble upon the two stallions in an awkward situation, they find that their notions are... rather misplaced. Especially considering what the mares do together in their own private time.
A parody of shipping in general, including some tropes. Consider this a late April Fool's story!

Thanks to Sir Rustbucket, Loopy Legend, Fiend from the Darkness, and Holo for editing.
Rated Teen for some language. Sex tag is for sexual innuendo and humor.
And yes, the cover image is a Scrubs reference. Love that show.

Chapters (1)