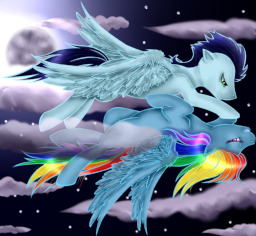 Source
After the tumultuous events of the Canterlot Wedding, Rainbow Dash goes on her nightly flight to relax. She's used to flying alone, and enjoys the solitude. This time, however, somepony accompanies her.
Takes place right after the Season Two finale.
Thanks to Inspectah Dash, Leonzilla, VarlorlordV5, TunaKebab, Loopy Legend, kooarbiter, and EricKilla for editing.
Now featured on Equestria Daily!
Check out the soundtrack made by RisenFromTheDust!
Rated Everyone.
Chapters (1)