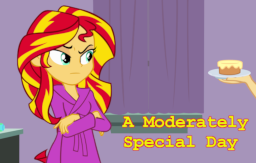 This story is a sequel to Just the Flu
---
From the moment Sunset woke up, she noticed that Flash seemed to be acting just a little bit different. He's usually a goofy idiot, but today he's an extra nice goofy idiot. Is today special for some reason?
---
This is a sequel only in the sense that the prequel shares the same continuity. None of the other related stories are required reading to understand the others.
Written before Rainbow Rocks came out.
Chapters (1)