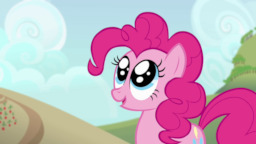 Pinkie Pie is on top of the world right now. Why wouldn't she be? She just found out that she's a part of the most awesome family in Equestria (well, almost definitely). However, when a chance encounter in the market leads to the discovery of another distant Apple cousin in Ponyville, she realises that everypony should have a chance to know if they're related to the best family ever!
The only problem is, 'family' has very different meanings for different ponies...
Written for the 'Pinkie Apple Pie' prompt on Equestria Daily.
Chapters (1)