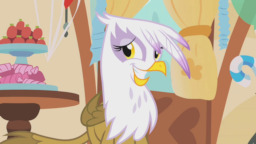 Gilda's reformed. She knows it—she feels it! All her anger is under control, there's no more aggression, and she doesn't even use 'dwee'—uh, 'the d-word' any more. Her psychiatrist, for all his infuriating and impenetrable language he uses, seems to have her situation under wraps. When he tells her of his exciting work with other ex-antagonists of Ponyville and their bright futures, Gilda jumps at the chance to make her own happy ending.
However, that would be reliant on Ponyville wanting to give her a second chance, and the town's patience for one-off ex-villains coming back has long since been wearing thin. Gilda will discover how to really win a do-over, all while battling an insidious life-coaching conspiracy, her own unreliable memory and Pinkie's bizarre Dia di los Huertos party.
What's a griffon got to do to get a break in this town?
Chapters (1)