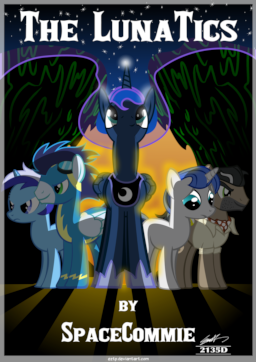 Source
A traitorous spy who can freeze time. An amoral archaeologist with a dangerous past. A cloudheaded Wonderbolt who wants to be a hero. A secretary in way over her head. Leading them all into the depths of the changeling hive is Princess Luna. Their mission: to capture Queen Chrysalis and bring her to justice. There will be no support, and no going back. And none of them are prepared for what they'll find.
The changelings have a past deeper and darker than anypony imagined. And so does Chrysalis.
---
Reviewed by Seattle's Angels June 10th, 2014.
---
This story was created with the help of Einhander, Auramane, Benny, Cola_Bubble_Gum, and Guy_Incognito.
Credit for the lovely cover art goes, of course, to 2315D.
---
This story takes place between the Changeling Invasion of Canterlot and the reappearance of the Crystal Empire. It takes basically no cues from the IDW comics. If you consider those canon, this should be considered AU. (Update: for obvious reasons, the canon has moved on from where it was when this story started, so the point is moot.)
Chapters (13)