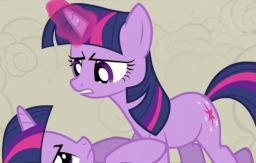 Twilight is being pestered by time-traveling clones of herself, all of whom are entirely too interested in her. It's up to Rarity to figure this out. Or try, anyways. If only Big Mac would be a bit more cooperative...
A romantic comedy. Think two parts romance to one part comedy to one part drama. Updates every Friday.
---
Author's notes:
Set sometime between Season 3 and Season 4. (Continuity is not my strong suit.)
Thanks to Sharp Spark and many others for their help with this.
Chapters (2)