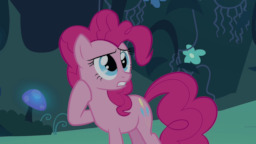 Source
Wet. It's the first thing I can remember. The water of the Mirror Pool dripped off of me as I stepped out and took my first breath. After that, it was just sort of a blur for a while.
What if instead of the real Pinkie Pie, one of the duplicates passed the test? They'd do anything to survive unexposed. And Pinkie's friends would do anything to get her back.
---
Now in Twilight's Library and Twenty Great Stories.
Chapters (8)