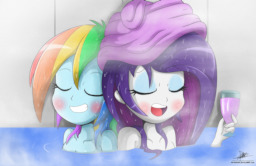 Source
This story is a sequel to Leading the Blind Through Light
---
Rarity experiences an inspirational drought following the Fall Formal, one that Rainbow Dash relieves with the chance to design a new baseball uniform for her team. However, a series of strange encounters leave Rarity feeling attracted to Rainbow Dash, for all the wrong reasons.
And when one they know quite well disappears under tragic circumstances, she begins to question whether her future is worth struggling for...
Big thanks to Cynewulf, RazedRainbow and Azusa for pre-reading.
Chapters (2)