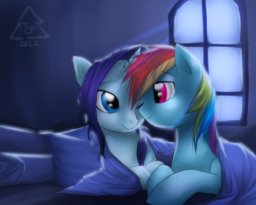 Source
She waited for Rarity's face to bloom into softness, the way it always did when Rainbow made some big romantic gesture like this. Rarity's face stayed impassive. But she smiled. It was a smile that was reserved and slightly tired—barely genuine. The warmth in it was quiet, self-contained.
And that's when Rainbow's entire world came crashing down.
She did not need her any longer.
---
The first story in the What Could Go Wrong? series
Chapters (1)