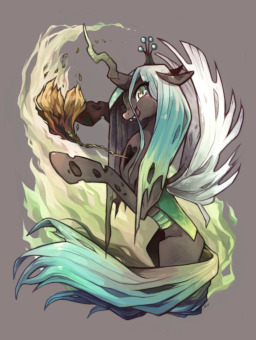 Source
The back of this slim volume reads as follows:
On winter's nights, when cold winds blow outside and ponies everywhere huddle around the fireplace, friends and family often pass the time by telling stories to one another. Many of these fanciful tales have been told and re-told for generations, and the most enduring ones have become immortalized in folklore as pony tales.
My brother and I have travelled the land, gathering many of these stories, and now present this collection for your entertainment. We hope you find them as interesting as we did.
~Scarlet Quill, of the Quill Siblings
Most of the pages are blank, but as you watch, neatly-penned words begin to fill the first few pages all on their own. Already, one story has completed itself. It appears to tell the tale of the First Changeling...
(Partially inspired by LadyMoondancer's Gobbling and Other Traditional Pursuits. More short stories may be added later as new chapters.)
Chapters (1)