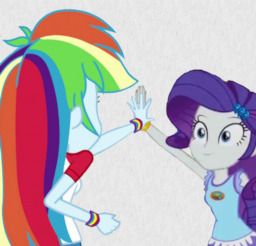 Friendships grow and change. That's how life works and it's usually a good thing in the end. Rainbow Dash and Rarity once saw their friendship more of a friends by association sort of thing. It was a total surprise to both of them when they realized that had changed. It took them a while to realize they'd become best friends even among their other friends. But that was still as far as it went, right?
This is the story of a growing friendship and how truly unexpected love can be.
I got this idea after reading the story "Hope You Dance" by PapierSam. So if you like this please go check out their story too. In fact, go check that one out regardless.
Check it out here.
Like all my Equestria Girls stories I'm setting this at some unknown time after the second movie where the third movie still hasn't happened, mostly because it's an easy and convenient timeline to work in.
This will be a new challenges for me as most of the story is going to take place in flash back form and keeping that specific narrative focus is going to be different.
As always, let me know how I'm doing. All comments are welcome, good and bad.
Chapters (6)