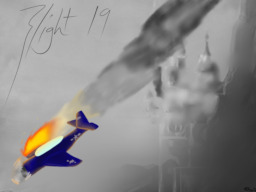 Flight 19, one of the many disappearances over the Bermuda Triangle. But maybe they didn't just disappear? Maybe they went somewhere else? The Bermuda Triangle is a very strange place, full of unknowns and horrible tales. This is the tale of Flight 19.
Note: This is a collaberation between GoldenArbiter and myself. We will add the main cast as we progress through the story. Thank you everyone and please, enjoy. Cover Art by the very talented Athanix.
Note the second; By GA. We have also Added Dave Morris to the cast of writers, and he has added much already. So yah, it's okay, when it's in a three way.
Chapters (12)