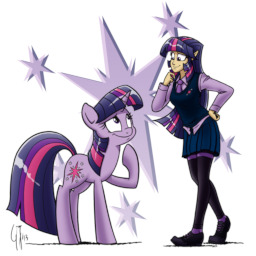 Source
When Twilight comes back from her week long visit to her brother's house, she finds out that everything has changed. Canterlot High is babbling about some magic girl from another world, but Twilight knows better. There's no such thing as magic, or portals into other worlds.
Right?
EDIT: Wow. Never expected the feature. And by the way, thank you for anyone who commented with a consructive criticism. I'll be reading as many as I can and keeping them all in mind for the future chapters as well as going back to edit the past ones periodically. Enjoy the story!
EDIT 2: Went into the first chapter and tried to fix up the 'Twilight did X' issue that many people commented on. (Thank you to those who did.) Hopefully it is a bit more readable now.
EDIT 3: After fan feedback on a massive error I made where Princess Cadence was an out of control lunatic, I rewrote the Twilight meets Twilight scene so that it flows better and actually stays in character. Thank you for anyone who made a comment about this, I am listening to your feedback and writing my future chapters accordingly. (If there are any more of these, I'm going to keep these in a changelog in a blog post.)
Chapters (8)