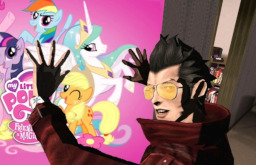 Travis Touchdown is an otaku. His interests include anime, pro wrestling, and killing people.
His interests do not include ponies.
So when one of his favorite anime of all time ("Super Gundoll Puzzle Mustard") gets preempted by My Little Pony, he decides he's had enough of the brony cultural osmosis.
Without a second thought, Travis dusts off the old beam katana and heads right for Equestria to put an end to ponies. He trusts his Force and heads for the Garden of Madness!
---
A very special thanks to my editor/co-conspirator Bookish Delight. Without her, this story would amount to doodly-squat... which is less than nothing, in case anyone's curious.
Chapters (13)