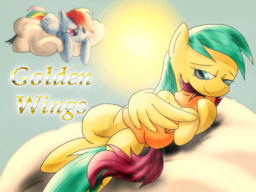 8/21/2014 Yay! My first fic to get to the Feature Box! I'm so excited. Thank all y'all for helping this story reach this achievement. You all are awesome.
Retroactively giving this the AU Tag, and making this part of a series: "The Golden Saga". Stories will be split into arcs. With each new story having a recap chapter so new readers can catch up to stuff without being lost.
Part 1 of "The Golden Saga"
Raindrops is a mare who's lived a full and interesting life, and is a close friend of Ditzy Do, as well as a volunteer to various help groups in the community. When she sees Scootaloo diving for a meal in an alley way while covering for an ill Ditzy Do. She decides to take her in before the upcoming early winter hits. All the while trying to help her find the family she's lost long ago. This is a story of love, friendship, and the healing of old wounds.
Cover Art by: ImJustAnotherBrony
Editor: kingtiger666
Thank all of you readers for getting this story into the Popular Stories box. [8/14]
Chapters (16)