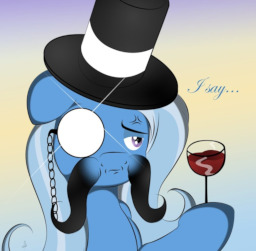 Source
Trixie wakes up in Twilight's bed sandwhiched between Cheerilee and Twilight. What's going on, and what did they do last night?
What happens when you mix Caramelldansen MLP style + He-Man Heyeayeah + A Tired, Sleep Deprived Mind. You get this wonderful stew of awesomeness.
PS: I'm sad that I can't find a Heyeayeah Meme image with Trixie that would be the perfect cover art.
PPS: There is no actual sex. But it's implied that it may, or maynot have actually happened.
PPPS: Drunken Cadance is funnest Cadance.
Chapters (2)