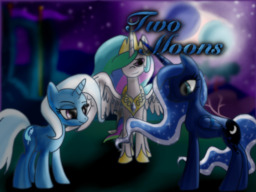 TrixieX???? Random Ship Fic contest entry.
A mentally broken Trixie, the mare behind the greatest financial disaster in all of Equestria, is saved by the Princesses on the day she decides to end her life. Afterwards, she strives to go from the shadows of the past that haunted her, into the light she's always yearned to touch. With the help of the Princesses, and some old enemies turned friends it'll be up to Trixie to choose between the shadows that had so long defined her, and the chance to become the mare she's always wished she could be.
Cover Art By ImJustAnotherBrony
9/1/2013: This story won the contest. Thank you everyone for your favs, upvotes, and comments.
Chapters (11)