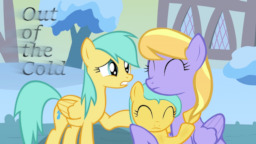 inspired by Autum Breeze's "Wings, a Horn and Hooves"
It was a cold evening in Ponyville, a cold wind was blowing from the north and ringing the bells on the doors of the shops...
The streets were semi-deserted... hardly anypony wanted to venture outside, each pony was at home with his family enjoying a nice cup of tea in front of the fireplace...
But not everyone was lucky enough to have a house or a family with which to shelter from the cold... 
huddled in a cardboard box, at the end of an alley hidden from view, there was a little Pegasus filly...
The filly was alone... she didn't have a house or someone to stay with, and the few times she tried to ask for some charity, she was brutally rejected...
In the darkness of that alley, away from everything or from everyone, the little filly cried... cried because she was hurt, because she was cold, or simply cried because no one seemed to care...
In her eyes, no one would ever help her or make her feel safe...
But fate has decided differently...
At that moment, a gentle mare was heading for the filly alley, determined to change things...
Chapters (5)