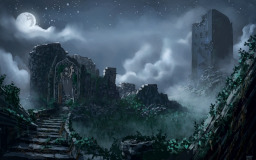 0515 GMT Sunday morning. "Ugh, why did I get picked for this?" Standing around a aeroplane with "special materials" on board is not my idea of fun. It's going to be boring. No attempts to steal it, no protesters. Damn, I was hoping for the 50 year old lawyer to jump the fence. That would've been worth it!
A few hours later and the "special" stuff is being loaded up when there was a solid thud behind me and then a bright flash before I was blown away by the pressure wave. My first thought was "I'm dead". For all intents and purposes, I might as well be. My new mission? Find a way home.
Rated teen for lot's of swearing. The dark tag is there for the first few chapters, and some more may appear later on. And if someone knows the artist for the new cover, can you let me know.
Chapters (31)