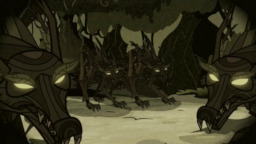 We've read it all before; human ends up in Equestria, meets ponies, etcetera... but what if it wasn't the ponies they met and befriended first? What if it was another creature, say... the timber wolves?
After losing his way in the Forest of Dean, Jack Masterson finds himself in the magical world of Equestria with no clue how he can get back. After fleeing from the truly surreal sight of our favourite ponies, he finds himself back in a forest... and this time, he's not alone...
Meanwhile, trouble is brewing in Canterlot as Prince Blueblood works on his latest scheme to ruin the inhabitants of Ponyville. Will he achieve his revenge on the Mane Six, or will he fail yet again?
Not really inspired by anything in particular, so if you see similarities between this and another story, you're probably paranoid, unless I mention any references. Rated teen because the main character, while not based on myself, shares my fondness for swearing occasionally.
EDIT: this story now has a Dark tag, as one of my plot-points took an unexpectedly dark turn. I'm also considering switching it to a Mature content as a later plot-point might get darker still.
Chapters (5)