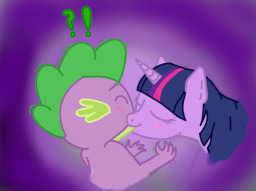 Source
While cleaning the library, Spike comes across a book hidden in Twilight's bed. At first it seems like an ordinary book, but he soon finds out that his longtime friend has been holding some feelings back. But what should Spike do? Should he open his heart to Twilight? Or will he crush her feelings?
The characters in this story are anthronized. Cover art by OnyxPrince
A big special thank you to FlimFlamBros. for proofreading this story and helping me out.
Chapters (6)