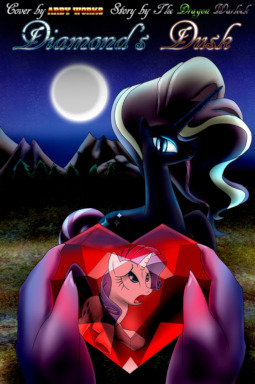 Source
Featured on 8/24/14
Author's Note: This story takes place mainly in the MLP comics universe. If you haven't read about this particular arc, you'll most likely be lost.
Twilight and her friends have "freed" Rarity from the grip Nightmare Moon had on her. But the spirit has left one last surprise for the fashionista; something that changes her life for the worst. Now forced to hide her secret in fear of being an outcast to other ponies, Rarity and her friends must find a way to reverse what Nightmare has done. Yet it won't be simple as two ponies who know Rarity seek to expose her to the world. Not only that, but Rarity must try to understand her thoughts for one of her closest friends.
---
While this story does take place in the MLP Comics universe, there is continuity from the show itself, but there are some alterations. For example, Twilicorn never happened, so she's still a unicorn. Secondly, this story will most likely dismiss any future events that happen in the final episodes of season 4.
Special thanks goes out to Arby Works for the great cover art, the Sparity Skype group that assisted in prereading the story to ensure quality, and thanks to you, the reader, for taking a look at it.
Chapters (13)