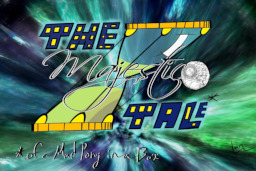 Source
Traveling between parallel universes is impossible, especially during the process of regeneration, but the Tenth Doctor doesn't have time to question the facts. He's just been thrust through a tear in the fabric of reality, gotten a new body, and landed on a planet called Equestria. Specifically, he's landed in the worst possible place in all Equestria – somewhere that's ready to unleash a "big ol' storm of chaos".
That's just the beginning of the Doctor's strange new lease on life: there's a whole host of mysteries to explore. Who is Derpy Hooves, the gray pegasus who understands more about him than even she knows how to explain? How does Princess Celestia already know him? And what's the truth behind the Order?
Above all, the Doctor needs to discover if this new universe can heal the wounds he suffered in the last. Only one thing is certain: there's an awful lot of running left to do.
(Warning: For those of you who haven't watched up to the Doctor Who episode 'The End of Time'... spoilers. Also, this story begins between Seasons 2 and 3 of FiM, and things start to... diverge from there.)
Side stories can be found at The Merely Mundane Tales (of a Mad-Pony in a Box).
Chapters (22)