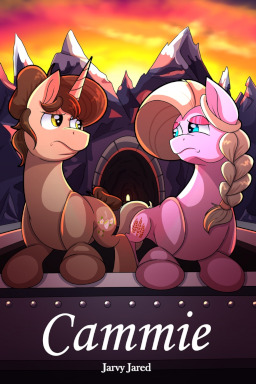 Chamomile isn't a train conductor. She isn't an engineer, either. She's just a widow taking care of her lonely Bridlewood tea shop and disabled son. Yet, when she receives word of a job opportunity from the newly instituted Equestrian Railroad Company, asking for ponies to extend the railroad to a forgotten realm in the Frozen North, she is intrigued. Perhaps such a place holds the key to changing her son's life for the better.
This simple task is colored by the group she's paired with: a reserved unicorn, a gung-ho pegasus, and an earth pony no less burdened than herself. As they journey forward, she'll find they bring out sides of her long since buried, and new sides altogether—not least the earth pony, whom Chamomile finds herself growing inexplicably closer to.
It'll be up to her how to react to this change—and what kinds of memories she wants to make.
---
This story is complete, and will be updated every Tuesday and Friday.
My eternal gratitude to all of my pre-readers and editors who, with all their various contributions, comments, and concerns, helped me bring out the best in this story:
Stinium Ruide
Mike Cartoon Pony
VoxArachne
Sledge115
Little Tigress provided the cover art. Their deviantart can be found at this link. Thank you so much!
This story was written and revised to be set during the Tell Your Tale YouTube Series and after the Make Your Mark special, and as such, departs from the Make Your Mark series. That said, I have tried to make it so that watching either the special or the series is not necessary to understand the story's contents.
Chapters (20)