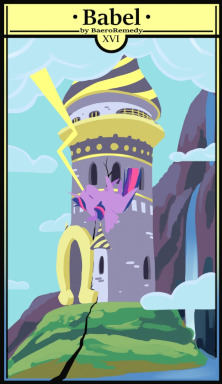 This story is a sequel to And Hell Followed
---
A plague ravaged Equestria, turning all of the unicorns and alicorns into bloodthirsty monsters bent on killing all the other races in a genocidal rage. A small cadre lead by the Elements of Harmony survived and persisted in Ponyville, and even managed to reverse it all at the cost of their lives.
Now Equestria must rebuild.
In Manehattan, Twilight Sparkle and Princess Luna must find a way to ease racial tensions while keeping the teetering nation safe and also rebuilding the lost trust of the little ponies of Equestria. Elsewhere, Cheerilee and Scootaloo must find their way in this new world.
There are only two options left. Rebuild Equestria stronger than ever, or be scattered to the winds of history.
----
Edited by Silver Mint
Cover art by MirAmore
Chapters (9)