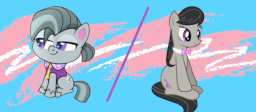 Following the disaster of the Grand Galloping Gala, the girls witness Pinkie Pie hugging the cello player that she had previously been harassing. The strange part, however, was that the cellist hugged her back.
Which led to Pinkie telling them about her sister - Octavia.
---
A simple story for Pride And Positivity 2021.
Featured 6/17/2021 - 6/19/2021!
Chapters (1)