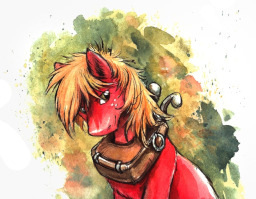 When Macintosh was a teenager, him and Applejack both tried to take charge of the farm once their parents had left it to them.
Macintosh succeeded, and now Applejack lives a more carefree life whilst Macintosh shoulders the stress of the harvest, the bills, and keeping his family together alone.
It's not easy.
Editing help provided by Red Parade. Art by kenket. An entry to 2020's 'Secrets' Roleswap contest.
Chapters (1)