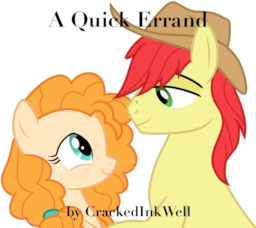 You unlock this door with the key of imagination. Beyond it is a dimension of sound. A dimension of sight. A dimension of mind. You're moving into a land of both shadow and substance, of things and ideas. You have just crossed over into... The Twilight Zone.
---
On a normal June day, Bright Mac and his wife, Buttercup were about to head into town for a quick errand while they left their children with their grandmother until they get back. On the way, Buttercup expresses her concerns about if they were good enough parents that their children would become good ponies like themselves. But before they could proceed any further, they remember that they had to go back to Sweet Apple Acres to receive something that they have forgotten. It is when they get back that the story really begins.
---
As you can guess, this is an AJ's parent's story that I'm doing it in the style of a Twilight Zone episode. Also, keep in mind that this is currently unedited. So if there is someone who is willing to volunteer to proofread it, please PM me to discuss it with me further.
Chapters (4)