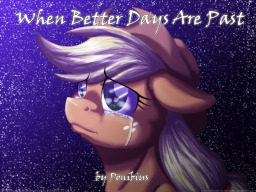 Applejack's love for her farm and her family define her. They're the two things in her life which keep her going: the only motivation she needs to get out of bed every morning. Her brother, her sister, their grandmother, and—and the three of them, keeping their family orchard going strong together. It's the life she always wanted.
But Sweet Apple Acres has taken a hit in recent years. It's hard to ignore how, so recently, the four of them used to be the five of them, or how the farm's account is running as dry as the fields themselves.
But it's just a phase; a bad one, but they come and they go, like the seasons themselves. Applejack knows it's just a matter of persevering, and staying the course. Better days are just around the corner.
Chapters (4)