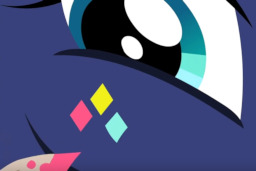 This story is a sequel to I Am Awkward (Yellow)
---
Manehattan Pride is always a huge event, but none of the creatures travelling from Ponyville suspected it might be as terrifying, electrifying, enraging, or life-changing as it ended up being.
Moon Dancer wants to propose to Fluttershy, Trixie and Starlight want to have fun, Rarity wants to find her soulmate, and Ocellus wants to learn about sexual identity. Will they succeed, or will their combined neuroticism wreck the whole weekend?
This is the final story in the Awkward Windmills trilogy also consisting of I Am Awkward (Yellow) and It Turns Out They're Windmills. You should read them! But if you haven't basically all you need to know is that Moon Dancer moved to Ponyville and is dating Fluttershy, and both Rarity and Starlight have come out as some form of not straight. And Applejack is Fluttershy's ex, but she'll never admit it. .
Chapters (11)