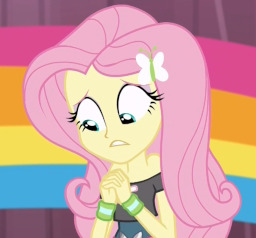 This story is a sequel to I Am Awkward (Yellow)
---
As Fluttershy's birthday approaches, she learns two jarring things: not all of her friends are as fine with her new relationship as she had previously thought, and her human counterpart is extremely closeted.
This is a story about queerness, friendship, bunnies, humans who think they're bunnies, magic explosions, and extremely terrible flirting.
Probably the main thing you need to know from I Am Awkward (Yellow) is just that Fluttershy is dating Moon Dancer, and they're super cute together.
And now with its own sequel!
Chapters (16)