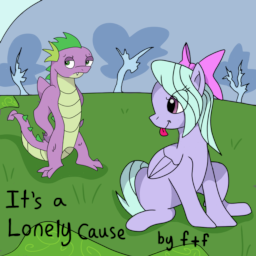 A collab with Freedom!
---
It's time for the yearly Hearts and Hooves Day Scavenger Hunt, hosted by Cadance and Twilight. It's a chance for couples to participate as a team in a competitive game against other couples throughout the town. It's very... romantic-ish and cheesy.
Regardless, Flitter would like nothing more to be asked to participate by the love of her life... Poptart! He's dreamy, he's handsome, he's in a band... He's perfect! Of course, it'd be easier if her sister wasn't always getting in the way of her hopes and dreams.
I mean, what would she do if her sister stole away the one pony she truly loves? Or at least likes a lot? Take a dragon to the event instead? Yeah, right...
She's not that desperate.
---
Cover art by Not Enough Coffee! Check him out!
Special thanks to Muggony for helping out with editing!
Chapters (8)