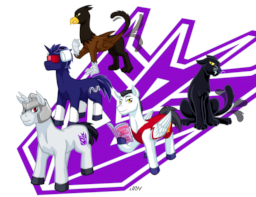 "The stars shall aid in her escape," it said.
It never said anything about a space bridge.
Megatron and his elite warriors had expected to teleport from the Oregon desert to Earth's moon. Instead they found themselves in pony bodies, stripped of most of their power, and forced to learn how to live like other organic life forms.
But Megatron has a plan. He will bide his time, learning about this new world and its new potential while his underlings try to find a way back to their home universe. If he can figure out a way to overthrow Celestia and conquer this land of ponies before then, so much the better.
This, of course, requires that his subordinates not act like idiots... and while he can count on Soundwave and Ravage, the same can't be said of Rumble, Frenzy, Laserbeak, Buzzsaw, Thundercracker or Skywarp.
And especially not Starscream.
A series of slice-of-life stories (with a little adventure) in which some of Ponyville's background ponies are more than... well... you know.
Cover artwork commissioned from Jason Meador. (From left to right: Megatron, Soundwave, Laserbeak, Starscream, Ravage.)
Chapters (16)