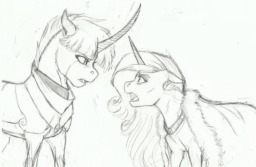 This story is a sequel to Walk in the Darkness
---
Rarity wishes to learn how to properly fight. Twilight seems opposed since Rarity won't give her the real reason behind her wishes.
Maybe it's frivolous, maybe it's a little deeper.
Artwork by Earthsong9405
Inspired by the Bodyguard!AU Series, based on Earthsong9405's AU where Twilight is the bodyguard to a "Princess/Queen Rarity".
Chapters (1)