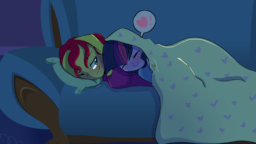 This story is a sequel to Homecoming
---
In the depth of night, when all that is left is the darkness and silence, and that little inner voice that loves to tear you down or remind you of past mistakes. At night, all you have is what you take with you. A little SunLight fluff one-shot.
Pairing: Sunset, SciTwi
Continuity: Homecoming
With an Audio Reading by AllyKitty
Revised 9-23-17
Cover art from SciSet Diary.
Chapters (1)